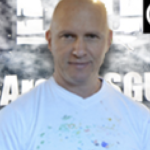 After studying marketing at the University in São Paulo, Brazil, Adriano Cuencas completed several trainings in graphic design. His digital creations are transformed into stunning collages. His motifs are mostly icons that connect with memories of our childhood and youth, releasing positive energies.
His extraordinary style finds expression in images that not only bring movie and rock stars like Marilyn Monroe, Audrey Hepburn, James Dean or Elvis Presley to life, but also fascinating comics and superheroes. His modern art leaves plenty of room for own memories and inspiration.

For his pop collages, Adriano Cuencas uses cutouts from old posters and billboards. He also uses spray, glitter, acrylic paints, stones, metal cuts and fabric to enhance his works. He confidently glues, sprays and finishes his motifs to create exciting compositions. The surface is always sealed with layers of non-toxic, certified resin, which gives the artwork a fresh "high gloss" effect. At the same time, the irregular shapes provide interesting outlines that make his artworks great wall decorations. His compositions hang in private collections in Switzerland, France, Germany, Italy, USA, Singapore and Brazil.

Adriano Cuencas, born in 1970, lives in Switzerland since 1998, is married and has three children.