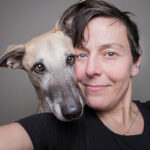 Born 1972, living in Hildesheim Germany, working world-wide, commercial and editorial photographer specializing in pet portraiture, proudly owned by three Spanish rescue mutts.
My photography has been published in books, newspapers, and magazines globally including the likes of National Geographic, The Daily Telegraph and The Sunday Times Magazine. In addition to this, my work has been displayed in galleries from Lisbon to Paris.
One should love what one does, only then will a really good work succeed. And I love photography with every fiber. My goal is to express my enthusiasm and my love in the pictures and to create individual, impressive photos that inspire you as much as the picture of the motives.
No matter what motive, I'm always looking for the uniqueness and to move it into the right picture.
For me, a very important criterion for a successful photo shoot is that it was fun for everyone involved.
Artist work