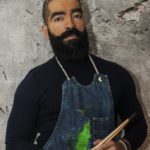 Pali John "Pee-Jay" Czifra-Malawau grew up as a creative centipede, though never really found it enough to perhaps see it as a commercial oppertunity as well.
After dealing and overcoming cancer, it was time for change for him and his family.
Finding great relief in creating art. Bright, colorful and funky! Being busy with the "mind and hands" provided rest and stability.
Inspired by great men and woman around the world. Leaders, inspirational people, visionaries and wonderfull quotes.
But also movie and music starts belong to them.
Still not consciously striving to become a commercial artist, when in 2017 his portrets from Alicia Keys, where tagged on social media by Alicia herself.
This was the tipping point for Pee-Jay to estabelish HippeShit013 and become more known in the art world.