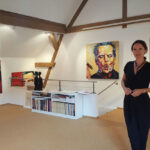 Born in Kiev, in the family of a concert pianist, Lena Piwitt first graduated from a piano music school. After graduation, she decided on her other big passion – painting. This was followed by training as an art painter at the vocational school for art and design and studying, first at the university in Kiev and then in Saarbrücken, Germany.
Over the years, Lena Piwitt developed her own painting style.
Guided by the dynamics of the moment, a play of colors is created. Like a piece of music, a picture is composed. Since she works mostly for private clients, she has a special sensitivity that helps her to realize the client's ideas in the pictures.
Lena Piwitt currently lives and works in Zurich.
Her paintings are collectors around the globe and are exhibited in national and international galleries.