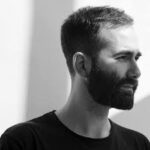 Lukáš Dvořák stages perfect female curves in front of breathtaking scenery. The beauty of his models contrasts the Czech artist with extraordinary settings, rough, wild landscape: Especially through this linking of nature and nudity his acts stole a simple matter of course. Exciting areas are often discovered by the photographer while traveling; "Lago di Como" and "Aida" were created in Italy and Portugal.
He describes his style as simple. "First of all, I want to impressively capture the beauty of women in my work. In particular, three components have to work: light, pose and facial expression. Ultimately, my shots are always dominated by clear, simple lines, "says Lukáš Dvořák in an interview. The fact that up to the desired pose sometimes much time passes is not to look at the works. For the artist, naturalness is the highest premise: in timeless, purist aesthetics, Dvořák transforms his photographs and dedicates himself with serenity and with ever new ideas to the female nude. His models are therefore authentic and strong in character.
For color photography, the artist decides only on commissioned work, as he says. "I'm not a big fan of color portraits. For me, all the extra information that comes with the color means a loss of emotion and character. Black and white shots feel more beautiful and charismatic for me. They just better tell my story. "
Lukáš Dvořák is one of the best-known Czech photographers of his generation. The artist achieved international recognition especially through his years of work in Milan. While the focus of his freelance work lies on black and white files, he also photographed for renowned magazines such as Harper's Bazaar, Vanity Fair and Cosmopolitan.