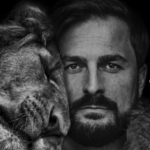 Marcel van Luit was born and raised in Groningen, a city in the northern part of the Netherlands. He studied to become a teacher, but worked as a social worker before he started his career in art. His journey to who he is today, started five years ago in a very unexpected way. Marcel was working as a social worker and just had his first son Otis. His life turned completely upside down when he got sick and was diagnosed with GBS (Guillain-Barre Syndrome), a very rare disease. He was completely paralyzed for a long time and after the first months in the hospital he was transferred to a rehabilitation center. It took almost a year before he finally got home again. When his upper body was starting to work again and he had too much time on his hands in the rehabilitation center, he needed to find himself a hobby. He was still in a wheelchair at that moment. It would be a win-win if he could find something to get him through the days and that trained the muscles in his hands and fingers at the same time. So he started to take pictures with his camera. Whenever his baby son came to visit him, he took as many photos of Otis as he could. He missed him so badly. He started to edit his photos into dream worlds. As Marcel couldn't go out and take his son anywhere at that time, he created the adventures he wanted them to be in. That's how it all started. He discovered a whole new passion and talent within himself as he edited different photos in to complete new worlds. He developed his signature look by playing with tones, darkness and light. As darkness and light can go hand in hand for him.
He quickly grew a huge fan base and got noticed in the European Art scene.
From the beginning, he's sold only limited, museum-quality pieces.