Predrag Radovanovic
69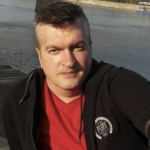 Predrag Peđa Radovanovic (born 1976, Sremska Mitrovica) is a Serbian painter and one of the most
talented painters in Southeastern Europe whose hyper-realistic images are masterpieces.
Since early childhood, at age nine, he entered the world of painting and acquired his first knowledge
of art in prestigious ateliers, where he started developing his style.
At the beginning of 2000, he began to work independently and professionally. He is in love with color
and horses, and his artworks have many admirers around the world.
He has been a participant in many colonies, and has won several major awards, such as first prize at
"Sremski Salon 2004".
He has been a member of the Art Association "ESNAF" since 2002.
He lives and works in Novi Sad, is married and has a son.