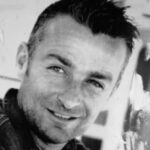 Willy R is born in 1971, Le Mans , Sarthe, France.
He has grown up in an artistic family and has developed at a very young age a real talent for drawings, paintings and handmade creations.
He has been living and traveling in many countries, such as the French Polynesia. The experiences, the lifestyle and the mutual exchanges have given him the palette of colors and source of inspiration, which can be found today in his paintings and successful creations.
As a art is the decided to settle down in the Provence – South of France in the1990s and is now a well-knownArtist in Cannes, Monaco, Saint Tropez and also Paris.
He has been developing his own and unique artistically style which has proven to be warmly welcome by an international private clientele and European galleries.
Pop Art ist he Style combining imageries, fantasy and oil paintings.
Willy R is exposing his work and creations in the Fame Gallery Zurich and Monaco.
He is affiliated tola maisondes Artistes, Paris.